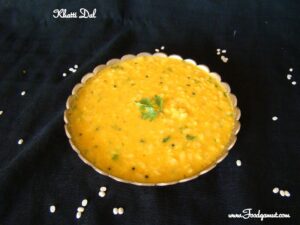 Preparation time – 15 minutes
Cooking time – 8 to 10 minutes
Urad Dal , (skinless ),Boiled – 1 cup
Mustard Seeds – 2 Teaspoons
Asafoetida(Hing)  – 1/4 Teaspoon
Turmeric Powder – 1/2 Teaspoon
Red Chilli Powder – 1 Teaspoon
Fresh coriander leaves, chopped – 2 tablespoons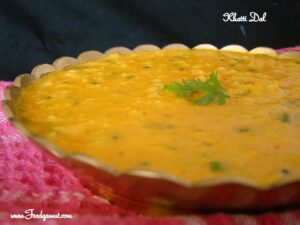 2 Add Mustard seeds, as they begin to splutter, add  hing Turmeric powder, red chilli powder, add boiled urad dal, mix well.
3 Add butter milk, water if required.. 
4 Add saltm curry leaves. give a nice stir.
5 cook for 5 to 7 minutes on medium flame.
6 Add fresh
coriander leaves.
7 Ready to serve.
Note: No need to mash urad dal. 
Video Recipe:
https://www.youtube.com/watch?v=x5drlqwTBY8