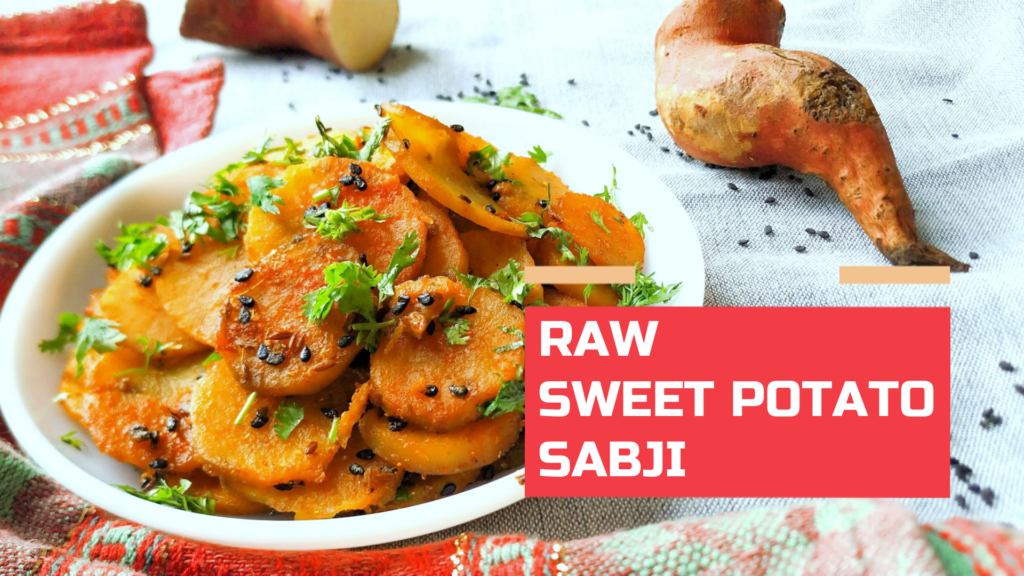 Preparation Time: 5 Minutes
Cooking Time : 15 Minutes
Ingredients:
Raw Sweet potato – 250 gm
oil – 2 Tbsp
Cumin seeds – 1 Tsp
Green chillies – 2 to 3
curry leaves – 5
Black / White sesame seeds – 1 Tsp
Asafoetida/ hing – 1/4 Tsp
Turmeric powder – 1/2 Tsp
Red chilli powder – 1 Tsp
Coriander powder – 1 Tsp
Chaat masala – 1/2 Tsp
Salt to taste
Fresh coriander leaves for garnishing
Recipe:
Remove sweet potato skin.
cut them in circle shape or whichever way.
keep them in water as you cut them.
heat some oil in pan.
add cumin seeds.
Add cut green chillies and curry leaves.
Add black sesame seeds and asafoetida.
Add turmeric powder.
Add cut sweet potatoes.
Add salt to taste and mix well.
Cover with lid and cook for 5 minutes.
Add red chilli powder.
Add coriander powder and chaat masala, mix well.
cover with lid one more time for 4 to 5 minutes.
give a final mix.
Add freshly chopped coriander.
Its ready to serve.
Video Recipe: