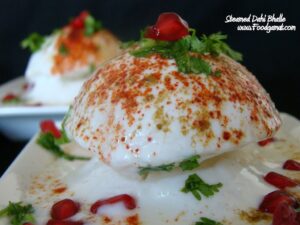 Preparation Time – 8 to 10 hours
Cooking Time – 10 to 15 minutes
Green chilli, finely chopped – 2
Asafoetida/ Hing – ¼ Teaspoon
Fruit Salt (Eno) – 1 Teaspoon
Roasted cumin powder – as required
Red chilli powder – as required
Fresh coriander leaves – 2 tablespoons
Buttermilk, salted – 3 to 4 cups (For soaking)
Wash and soak urad dal in sufficient water overnight. Drain off excess water. Grind dal to a smooth paste.
Take one bowl, mix smooth paste, salt and whisk for 10 to 15 minutes.
Take one microwave proof idali mould. Apply some oil into each part of idali mould. At the bottom of the dish pour some water.
Add fruit slat to the smooth paste and mix well. after adding fruit salt paste or batter becoming fluffy. add spoonful of batter to each idali mould. cover the idali maker with lid and put in microwave, set the highest degree for 3 to 4 minutes. Microwave it for 3 minutes and then check. If not done then go for 1 more minute.
Let's take it out now.
Separate
the moulds and let it cool down.
Whisk yogurt, salt, powdered sugar well.
Take serving plate, arrange bhallas and cover with chilled yogurt. Sprinkle roasted cumin powder, red chilli powder.
Note : Microwave time
always
set according to the quantity.