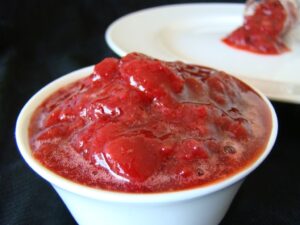 Before strawberry season is over, I want to share this compote recipe. Until this year I have never made Strawberry Compote. If you are like me, I highly recommend you would make this sauce or compote because it is easy to make and so delicious.
You can serve this compote or sauce with pancakes, waffles or as topping on ice cream, topping on bread or roti or paratha.
Preparation time – 10 minutes
Cooking time -25 to 30 minutes
Ingredients:
Fresh strawberries, chopped – 500 gm
Sugar – 100 to 200 gm (depends upon strawberry sweetness)
Lemon juice – 1 Tablespoon
Method:
In saucepan over medium heat, combine fresh strawberries, sugar, lemon juice, salt and cook for 10 minutes. Stirring often.
After 10 minutes, lower the heat until the compote coats the back of a spoon, about 15 minutes.
Remove from heat and allow it to cool down.
Note: you can store it for 3 to 4 days in the fridge and 3 to 4 months in the freezer.