Bread crumbs are made by processing bread into coarse or fine powder. It is usually made from leftover bread and is a good way of avoiding wastage.
Bread crumbs are used as binding agent or coating agent for deep fried and pan fried foods. A coating of bread crumbs gives the patty a good shape and holds it together. Once fried, it gives a crisp texture and golden brown colour.
There are two types of bread crumbs available in market or you can make it home easily. Usually dried bread crumbs are used for coating deep fried foods. Fresh bread crumbs are used as stuffing for any snacks, koftas or finger foods. Bread crumbs can be sprinkled as topping on many recipes before they are baked.
The best way to make bread crumbs is to grind in a food processor, or mixer.
Preparation time – 5 minutes
Cooking time – 10 minutes
Ingredients:
Leftover bread edges – 1 cup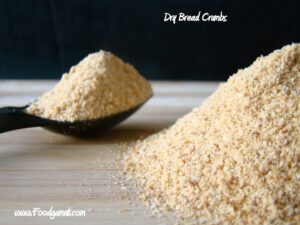 Method:
Cut bread edges, arrange them in microwave proof dish.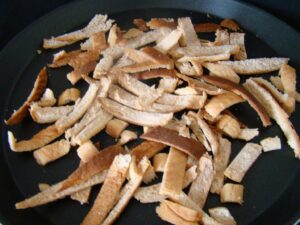 Micro for 8 to 10 minutes. Check it occasionally. So it may not burn.
Grind them in powder from or coarsely.
Store it in air tight container.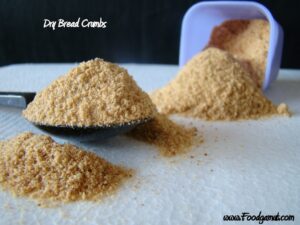 Note: you can also make it on non stick tawa with slow flame.