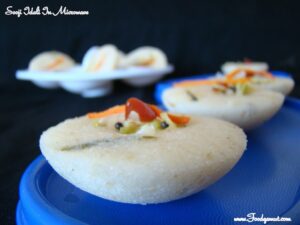 Preparation time – 3 to 5 minutes
Cooking time – 4 to 5 minutes
Serving – mini size 12 to 14
Ingredients:
Sooji/Rawa/Semolina – ½ cup
Crushed black pepper – ¼ Teaspoon
Topping ingredients:
Mustard seeds – ½ Teaspoon
Green chilly, chopped – 1
Cabbage, finely sliced – ¼ cup
Carrot, finely sliced – ¼ cup
Method:
Heat oil in kadai, add mustard seeds, let them crackle. Add green chilli, cabbage, carrot, salt and mix well. Cook on high flame for 1 minute. Switch off the flame. Keep aside.
Pour 1 cup of water in the base of a microwave safe idali steamer. Grease the idali moulds using little oil.
Take one bowl, mix sooji, curd, water, salt and crushed black pepper and mix well. Add fruit salt and mix well. Pour 1 tablespoon of batter into each mould. Topped with topping around 1 teaspoon over each mould, microwave, covered, on high for 4 minutes.
Repeat with the remaining batter to make more idalis.
Tips:
After adding fruit salt you have to make the idalis immediately as the fruit salt will loose its effect soon.
I have used plastic microwave safe idali stand with 8 idalis in each container.