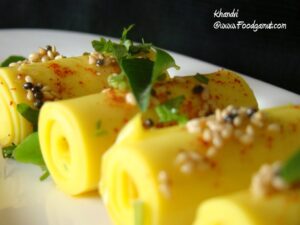 Khandvi is a savory snack or breakfast from Gujarati cuisine. It is made of gram flour, curd and water and some spices. it is also called Dahivadi or Patovadi in Gujarat, Suralichi Vadi in Maharastra. It consists of yellowish, tightly rolled bite sized pieces.

This khandvi is made from only 5 ingredients – Besan/ gram flour, curd, water, turmeric powder and salt.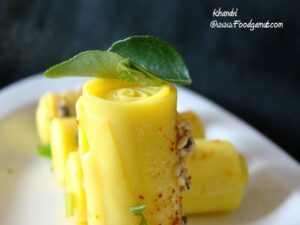 Preparation Time – 5 minutes
Cooking Time – 30 to 35 minutes

Ingredients:
Besan (gram flour) – 1 cup
Turmeric Powder – 1/2 Teaspoon
Fresh Coriander Leaves – 1 Tablespoon
Green Chilli , Chopped – 2
Mustard Seeds – 1 Teaspoon
Sesame Seeds – 1 Teaspoon
Hing – Pinch Of
Curry leaves – 4 to 5
Red Chilli Powder – For Garnishing
Method:


Take one bowl add besan and yogurt and whisk well. add salt, turmeric powder, water and whisk well, taking care that no lumps remain. cook this mixture, stirring continuously in non stick pan, till it becomes a smooth thick batter.
Quickly spread this portions of the mixture over the thalis as thinly as possible while the batter is still hot. keep aside for 5 minutes.
When cool, cut into strips 2 inches wide, roll them tightly.
Heat oil in pan, add mustard seeds. when they splutter, add hing and sesame seeds, pour over the pieces.
Garnish with coriander leaves and sprinkle red chilli powder.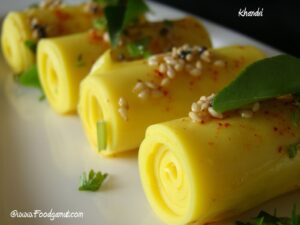 Tip: making khandvi is an art, It takes some practice to get perfect result. try out small portion 1st.