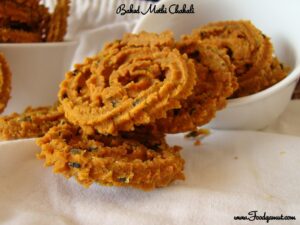 Preparation time – 15 minutes
Cooking time – 45 to 50 minutes
Ingredients:
All purpose flour/ Mainda – 2 Tablespoons
Black sesame seeds – 2 Tablespoons
Asafoetida/hing – ½ Teaspoon
Turmeric powder – ½ Teaspoon
Red chilli powder – 1 Teaspoon
Pepper powder – ¼ Teaspoon
Fresh fenugreek leaves – ¼ to ½ cup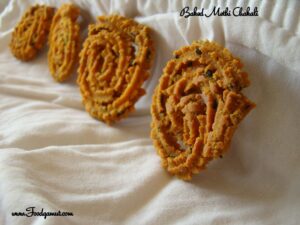 Method:
Mix all the ingredients and make semi soft dough.
Put the mixture into a chakali press and out round swirls of the dough onto a greased baking tray.
Apply some oil over all the chakalis with the use of brush.
Bake these chakalis in a pre-heated oven at 180c for 25 to 30 minutes, turning all the chakalis and bake for 15 to 20 minutes or till golden brown.
Cool and store in air – tight container.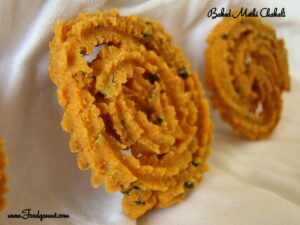 I have Samsung convection Microwave. Baking time may differ.