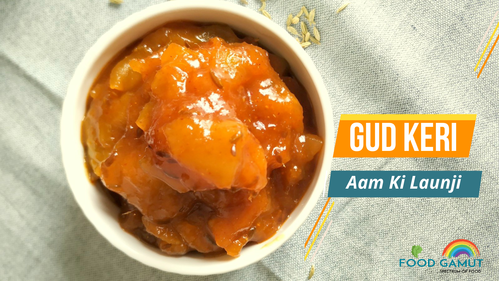 Preparation Time : 10 minutes
Cooking Time : 15 to 20 minutes
Ingredients:
Raw Mangoes Chopped – 250 gm
Cumin seeds
Fennel seeds
Red chilly powder
Coriander powder
Turmeric powder
Hing
Jaggery As per Raw mango sourness
Salt to taste
Oil – 2 Tbsp
Recipe:
1 Heat oil in pan.
2 Add Cumin seeds and fennel Seeds, let them crackle.
3 Add hing, chopped raw mangoes, mix well and cook for about 4 to 5 minutes.
4 Add salt, mix well, cook for another 5 to 7 minutes or till mangoes become soft.
5 Add jaggery, mix well, about 8 to 10 minutes.
6 Jaggery will start melting . Add turmeric powder, red chilly powder and coriander powder, mix well and cook for 5 to 7 minutes.
7 Cook till you get thick texture.
8 Ready to serve. An ideal accompaniment with theplas, Parathas,muthiyas.
Twist :
Add Achhar masala after you add coriander powder.
Video: